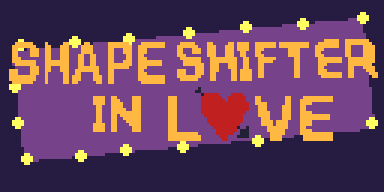 Shapeshifter In Love
You are a shapeshifter looking for love! So you've decided to make your own perfect match. You go on a dating show and must make yourself look the opposite to your date. The catch? You don't know what your date looks like!
You have a limited amount of questions to ask your date to try and determine what they look like and then transform your body to look the opposite.
Some pairs are more "opposite" than others. So for example you may get a good score just not having the same traits as your date, but to get the best score you must also choose the "perfect opposite" of a trait as well (for example fat <-> skinny).
At the end of a game you will get a chart that shows how spot on (or not) your guess was!
Use the mouse to play, click on a body part on you (the person on the left) to change it. To ask questions simply click the "Ask a Question?" sign or click on your date on the right.
M to mute sound.
Thanks for playing! Made for Xander Jam 4.
PLEASE NOTE: I DO NOT CONDONE THE IDEA THAT LOVE IS PURELY BASED ON PHYSICAL ATTRACTION. THIS IS JUST A SILLY GAME!
Download
Click download now to get access to the following files:
Shapeshifter in Love (Windows).zip
24 MB
if you pay $1 CAD or more
Shapeshifter in Love (Mac).zip
33 MB
if you pay $1 CAD or more
Comments
Log in with itch.io to leave a comment.
Now I want to know how many endings there are. I love this game
This is a really fun game.
this was really fun to play when you're just bored and want to play a game with a movie or like a video in the background !! I LOVE THE CHARACTER DESIGN TOO
This was a fun game! great take on the theme BTW!
i had a blast playing, great job on this
This game is really cool, I can see myself playing a game like this just to pass the time. It's rare for me to find a puzzle game I enjoy. Good work.
this is a great game! good to play when your bored, actuall